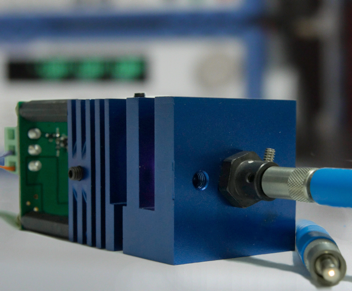 SL001-SW (420-760 nm) Compact, low power, fast settling led light source
The SL001 is a compact, low power, high stability and low settling time LED light source. It features a modular construction, using user replaceable LED modules, allowing different wavelength setups.
With an extremely short heating time of 1 minute, it is possible to get below 0,25% of stability at low drive currents.
When compared with traditional halogen light sources, the SL001 provides up to an order of magnitude of lower power consumption with a virtually unlimited bulb life (>10.000 hours) and does not require a fan.
The SL001 can be operated from 9 to 18 Vdc, with LED currents as high as 350 mA.
The SL001 includes an electronic shutter controlled by a 5 V TTL signal or dry contact and can be operated at frequencies up to 1 khz.
The light intensity can be adjusted linearly through the multi turn miniature potentiometer included in the electronic controller and the spectrum can be balanced inserting optical filters into the filter holder.
The SL001-SW is equipped with a SLM-SW led module covering the 420-760 nm range.
Download
SL001-SW datasheet